Wow… I've just finished watching Korean series, "Get Karl! Oh Soo Jung." I'm completely in love with the story. The storyline is pretty good and very entertaining.
The story starts when Go Man Soo is huge, nerdy, ugly, and chubby. He has been in love with the most popular girl, Oh Soo Jung, since middle school. Go Man Soo would do ANYTHING to have a date with Oh Soo Jung. Oh Soo Jung is like a gold digger. She's very picky and will pick only the best for herself. She told Go Man Soo that if he passed the exam and became a lawyer, then she would date and got married with him. He had studied so hard to pass the exam, but the exam had three levels. The real beginning of this Korean series is here! Go Man Soo fail the last level of the exam which is the interview exam. He fail the exam right before the day he's going to get married with Oh Soo Jung. The night before they are going to get married, many men came to beg her not to get married with Go Ma Soo. She resisted. She already made up her mind that Go Mn Soo was the one.
So… just right before she is going to walk into the wedding ceremony, Go Man Soo decided to be honest with her and told her that he had fail the exam. Oh Soo Jung was in shock and couldn't accept the fact that after they were married, he might NOT be able to make money as much as she has hoped. …. SHE RAN AWAY with her wedding gown!!
It's getting interesting… Go Man Soo was very disappointed and hurt so bad. He decided to go to the US and started his new life. 8 years later, it's time for Go Man Soo to come back and finish his revenge on Oh Soo Jung. Now, he's world known golfer, Go Karl (his new name) who comes back to Korea for the tournament. Oh Soo Jung is a desperate 34-year-old single who is trying to catch a wealthy husband. When she learns that Go Karl is Go Man Soo, she wants him back because now he's worth 5 Million!
From here, the story continues to get better… you have to watch the rest. I love it!
I've just finished watching the Vineyard Man, 2006 Korean Drama series, on the weekend. At first, I felt that the story moved so slow. I would have felt asleep. But, it's getting better when Ji Hyun had to go to work for her grand uncle's vineyard in a small town. The scenary was beatiful!! I was much enjoyable to watch Ji Hyun (Yoon Eun Hye from the Princess Hour and Coffee Prince) worked with Jang Taek Gi (I never see him before).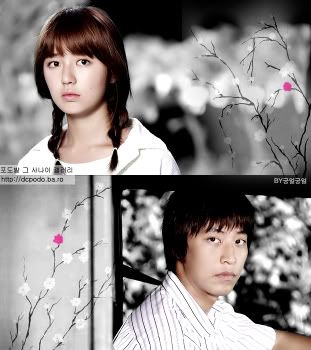 City girl in a country town!! OMG.. she had to work so hard because her grand uncle told her if she worked for him for one year, he would gave her the 10,000 acre vineyard (worth about 20 million dollars). She's very talented in designing and sewing clothes, but she had to come to work as a farmer.  She asked Taek Gi to teach her everything and help her to become a queen of grape.
This is a romantic-comedy. Both actor and actress pulled it off and make it believable. This is another successful work from Yoon Eun Hye!! Love it! You can't miss this Korean series!!! Yoon Eun Hye is so cute even though she looks so tan. Watch the MV from YouTube below.
I've just finished watching a Korean drama series, Witch Yoo Hee or Witch Amusement. The series have total of 16 episodes. The title might mislead you. This series has nothing to with any magic or witches.  Because of the main actress's bitchy mood, icy heart, and demanding aggression, people would call her a witch.
Ma Yoo Hee, the witch, is always about pefection and success, but she is likely fail to have a real relationship with a man. She has tried to go out as a blind date so many times, but most guys deny to ask her out on the second date. Until she meet a Moo Ryong (not sure I write his name corrrectly 😎 ), things have started to change. Moo Ryong is a very romantic, creative, hard-working, sincere, and gentleman type of guy. He loves cooking especially French food. However, he get fired from every restaurant where he works. He is an out-spoken when it came to food critics. That's why chefs and people in the kitchen are hate him. Plus, he is too talented and well-trained since he was young. His abilities and cooking skills are far beyond those chefs whom he works with. He dreams to get trained by or to work with Johny Koger, a celebrity chef from New York. One day his dream comes true. He has an opportunity to work with Johny and starts to learn french cooking enthuastically.
I love this series because it was fun to watch Yoo Hee's progression to become more lady-like and romantic kind of person. Aslo, I had fun to watch Moo Ryong  being a coach to teach Yoo Hee how to show affection to a man and people around her, how to cook, how to act on a date, and how to be stylish with the new sense of fashion. I love her transformation!
Not only that, each main character has his and her mystrious background that will keep you puzzle and curious. Later, the story tied things together. Yoo Hee got caught amongst three men: Moo Ryong, longtime friend Johnny, and first love Joon Ha. Which one of these suitors will melt Yoo Hee's icy heart? You need to find out!
Now this Korean drama has been on air in Thailand after successfully airing the Coffee Prince, which I love this Koren drama series too.
Below are couple soundtracks which I like from the Witch Yoo Hee series. Please let me knwo if you would liek to put some more soundtracks.
Audio clip: Adobe Flash Player (version 9 or above) is required to play this audio clip. Download the latest version here. You also need to have JavaScript enabled in your browser.
MC (feat. Haha): Click to download
Audio clip: Adobe Flash Player (version 9 or above) is required to play this audio clip. Download the latest version here. You also need to have JavaScript enabled in your browser.