Since I got my BlackBerry Curve 8900, I've become more a texting person. I would reply all my emails through BlackBerry, text SMS and MMS. Some might claim that the Curve keyboard is too small, but I think it's OK for me. I have NO problem with it.
This morning I read the news about a texting competition arragned by L.G. National Texting Chapionship in New York on Tuesday. I used to hear about typing the typewriter contents before, but not texting contenst by using a ell phone. Surprisingly, a 15 year-old girl won the $50,000 grand prize. She claimed that she texted 500 messages a day!
There were all kinds of weird challenges. One of them was blindfolding while texting. Another round tested contestants' basic of texting acronyms. And the end, it was a tiebreaker. Two girls had to text this text:
Zippity Dooo Dahh Zippity Ayy…MY oh MY, what a wonderful day! Plenty of sunshine Comin' my way….Zippitty Do Dah Zippity Aay! WondeRful Feeling Wonderful day!"
The winner was Kate Moore of Des Moines, Iowa.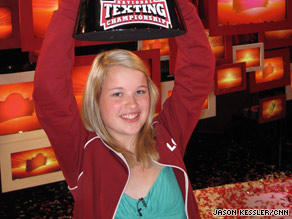 Congratulations!! Read more details about the news from CNN