Monopoly City Streets was developed by the Hasbro's UK agency, Tribal DDB, with a little bit of help from Google. The game will be available in English, Spanish, German, French, and Dutch. Toymaker Hasbro is preparing to launch a world-encompassing live version of Monopoly using Google Maps as its game board. 
The game's official site dubs the stunt a "world of property empire building on an unimaginable scale" — and it will use something a bit different from the traditional Monopoly rule set.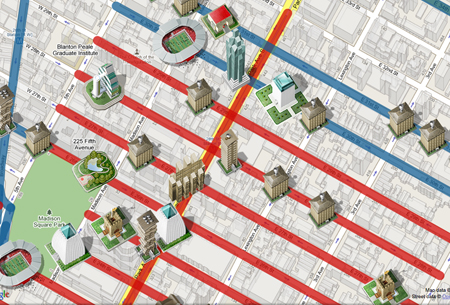 Using Google Maps data as the backdrop, players start with $3 million Monopoly dollars to "purchase" actual streets and build up property nearly anywhere they wish in the world. Each street is only available for purchase by one player and can be traded or hoarded in the pursuit of real estate domination. Players earn rent each day based on the property they own, and chance cards offer the ability to make bonus buildings like parks, schools, and wind farms or even put hazards on other people's properties to sabotage their rent value.
Source: UK Register