My cousin asked me if I had ever tried "Fried Coke." I was like.. What??? What are you talking about? And, then she sent me pictures and the story about it. Whoa… it's pretty amazing how the inventor, Abel Gonzales, Jr. come up with a very creative dessert. He introduced Fried Coke in 2006 at the State Fair in Texas.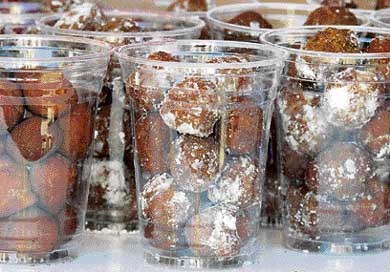 I also found the recipe on the Internet. (Source)
Ingredients:
2 cups flour
1 teaspoon baking powder
2 eggs, lightly beaten
1 1/2 cups Coca Cola
Oil for deep frying
Topping:
1 cup Coca Cola syrup
whipped cream
maraschino cherries 
Instruction:
1. In a medium bowl, mix together the flour and baking powder.
2. Mix in eggs and Coca Cola and stir until a smooth batter forms.
3. Preheat oil in a skillet or deep fryer.
4. Pour 1/3 cup of batter into a funnel or turkey baster and in a circular motion pour batter into the hot oil.
5. Fry up for about a minute on each side and drain on paper towels.
6. Serve while still warm and top with Coca Cola syrup, whipped cream and a maraschino cherry.
Now, it's your turn to try it out!!