I've just finished watching the Vineyard Man, 2006 Korean Drama series, on the weekend. At first, I felt that the story moved so slow. I would have felt asleep. But, it's getting better when Ji Hyun had to go to work for her grand uncle's vineyard in a small town. The scenary was beatiful!! I was much enjoyable to watch Ji Hyun (Yoon Eun Hye from the Princess Hour and Coffee Prince) worked with Jang Taek Gi (I never see him before).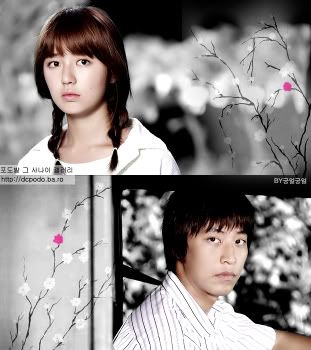 City girl in a country town!! OMG.. she had to work so hard because her grand uncle told her if she worked for him for one year, he would gave her the 10,000 acre vineyard (worth about 20 million dollars). She's very talented in designing and sewing clothes, but she had to come to work as a farmer.  She asked Taek Gi to teach her everything and help her to become a queen of grape.
This is a romantic-comedy. Both actor and actress pulled it off and make it believable. This is another successful work from Yoon Eun Hye!! Love it! You can't miss this Korean series!!! Yoon Eun Hye is so cute even though she looks so tan. Watch the MV from YouTube below.